Post by johntaylor on Oct 8, 2019 4:41:37 GMT
90 AT ACADIANA BEAGLE CLUB, CHURCH POINT, LA.
Acadiana Beagle Club's First Field Trial held at its new Location in Church Point, La. was a big success and it will only get better!!!! Rabbits came easy on Saturday, but sat tight on Sunday. The placing dogs proved they could contend with the dry and hot temperature. They had to dig that sent out, but proved in less then ideal weather conditions a good dog will get a race!!!
Saturday, October 5th. Female Classes
15" Female Class
Judges: Damon Keely & Troy Frederick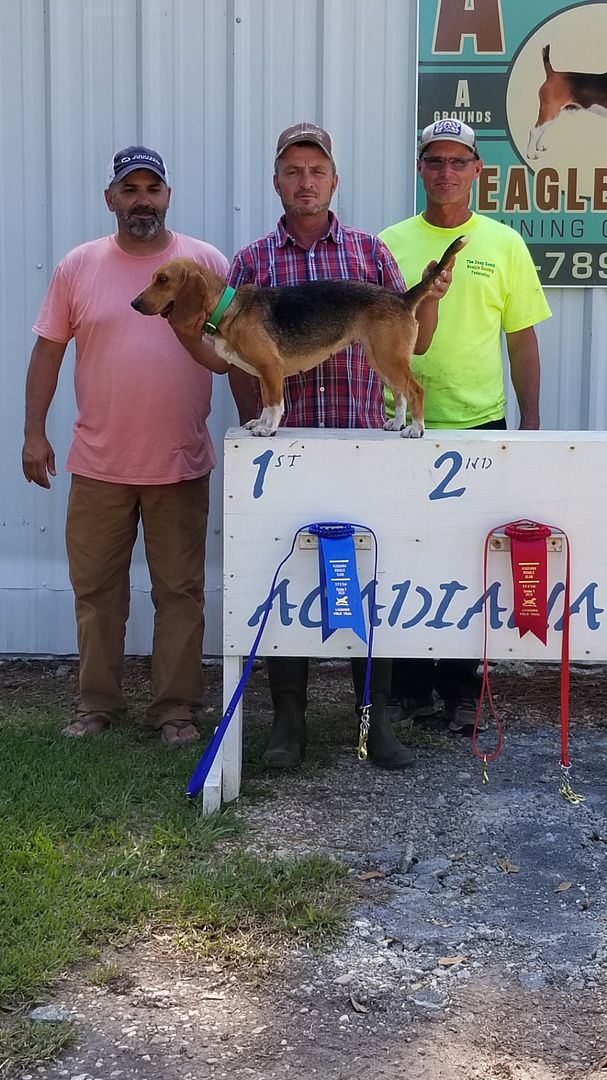 1st. Browns La Dandy Lion, Owner: Todd Andre, Lakeland, La. Sire: FCGD BoboSdandy, Dam: FCGD Browns La Gold Tooth Standard, Breeder: Gary Brown, Handler: Kevin Moore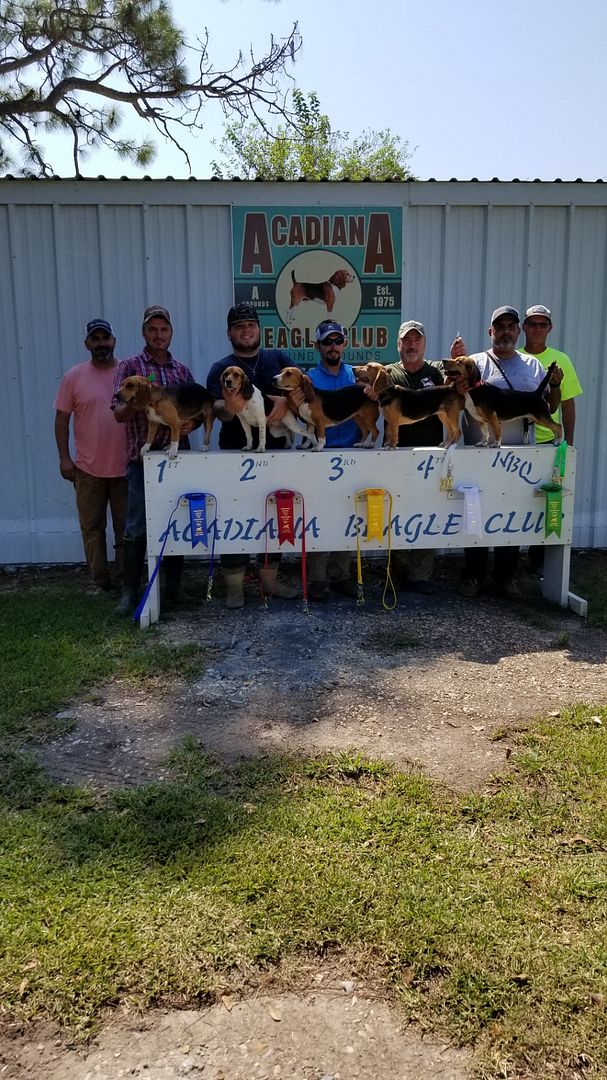 2nd. T&N Cotton, Owner: Todd Andre, Lakeland, La. Sire: FCGD Browns La. Dark Black Bill, Dam: T&N Casey, Breeder: Todd Andre, Handler: Kevin Moore
3rd. T&N Big Mama, Owner: Rudy Breaux, New Iberia, La. Sire: FC Williams Run-Em Hot Doc Holiday, Dam: Cockle Burs Jingles, Breeder: Stephen Wiggins, Handler: Kevin Moore
4th. Oneway Showoff Nifty, Owner: Richard Geiger, Wiggins, La. Sire: FCGD Bodiford's Showtime, Dam: FCGD Oneway Found A Classic, Breeder: Richard Geiger, Handler: Brent Champagne
NBQ. Amite River Kid Lou, Owner: Kevin Poston, Keithville, La. Sire: FCGD Sly Towns R&R Cadalac Kid, Dam: FCGD Amite River Lou, Breeder: Adam Cambell, Handler: Kevin Poston
13" Class Females
Judges: Stan Keely & Dwain Scott
1st. Cajun Country Layla, Owner: Lonnie Richard, Church Point, La. Sire: FC Cajun Country Bob Barker, Dam: FC Cajun Country Pretty Girl II, Breeder: Lonnie Richard, Handler: Lonnie Richard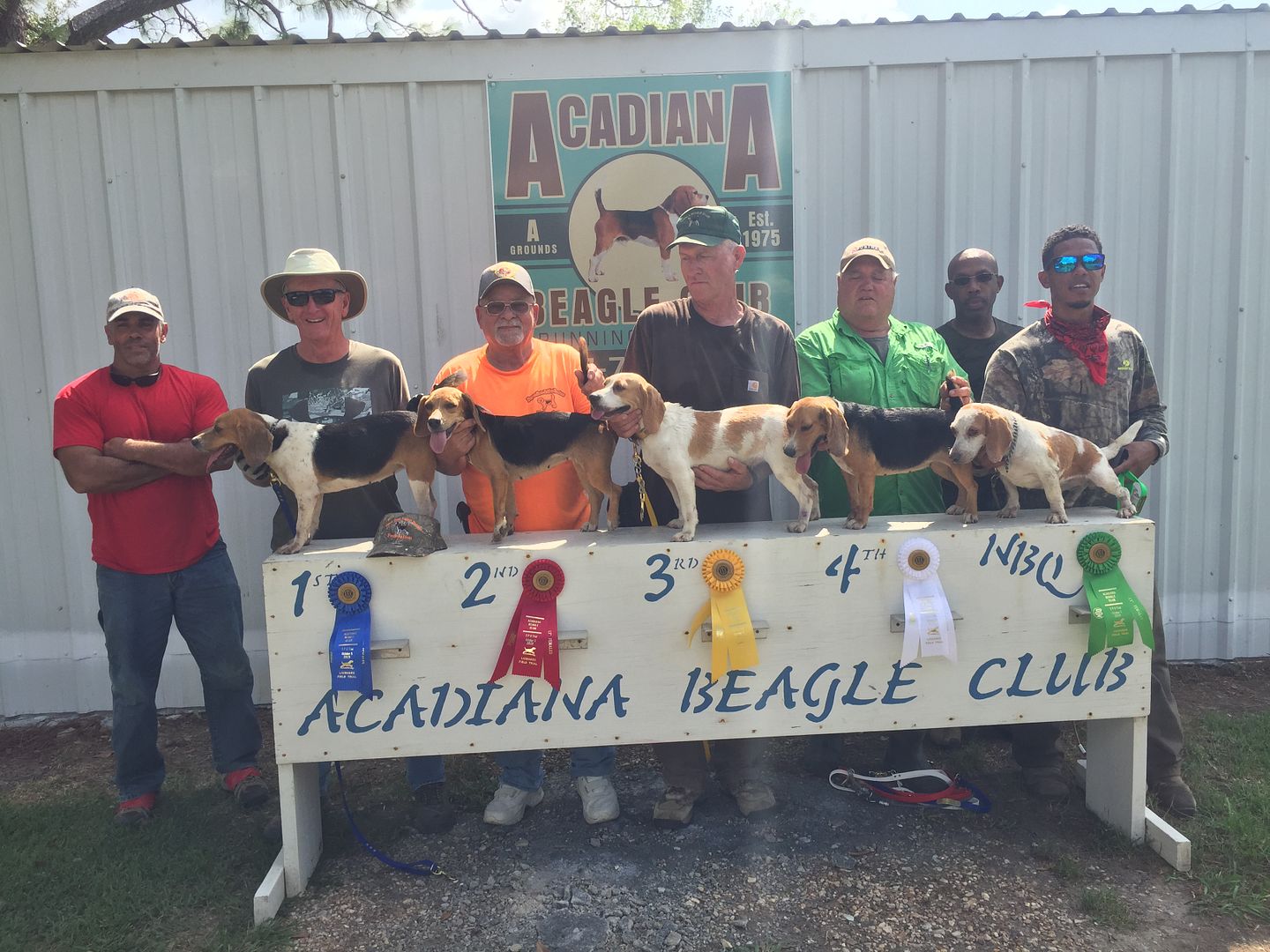 2nd. Coulee Croche Mary, Owner: Ricky Knight, Thibodaux, La. Sire: FCGD Carter Creek Lil Blackjack, Dam: Coulee Croche Blue Collar Cindy, Breeder: Ronald Decou, Handler: Ricky Knight
3rd. C&T Kane Bayou Lady, Owner: Bud Brown, Alexandria, La. FCGD Cajun Country Bob Barker, Dam: FCGD Cajun Country Pretty Girl II, Breeder: Lonnie Richard, Handler: Bud Brown
4th. Live Oak Dawn, Owner: Ricky Knight, Thibodaux, La. Sire: FCGD Bodiford's Showtime, Dam: Brignac's Singing Lulu, Breeder: David Brignac, Handler: Ricky Knight
NBQ. Triple Crown Peaches & Cream, Owner: Jai Diggs, New Orleans, La. Sire: FCGD Five Star Smokey, Dam: Triple Crown Cadillac DT3. Breeder: Gary Brown, Handler: Jai Diggs
Sunday, October 6th. Male Classes
13" Males
Judges: Derek Keely & Dakota Grace
1st. Primetime's Running Rapid Bandit, Owners: Allen Price & Brandon Johnson, Ponchatoula, La. Sire: FC Five Star Smokey, Dam: Reynolds Rockin Trixie, Breeder: Everett Goodard, Handler: Brandon Johnson
2nd. Jus10's Lil Bam Bam, Owner: Kolt Boudreaux, Breaux Bridge, La. Sire: FCGD Stognes Black Ace, Dam: Poirier's Little Reba 2, Breeder: Justin Boudreaux, Handler: Justin Boudreaux
3rd. Cypress Swamp Jumpin Jack Flash, Owner: Steve Poirier, St. Martinville, La. Dam: FCGD Oneway Said Hello, Breeder: Richard Geiger, Handler: Steve Poirie4th. Knock'Em Out Buster Brown, Owner: Mike Agent, Pollock, La. Sire: FCGD Cajun Drive Jake From State Farm, Dam: Wallace's Oak Hill Donna Jo, Breeder: Mitchell Wallace, Handler: Mike Agent
NBQ. Cypress Swamp Choco, Owner: Steve Poirier, St. Martinville, La. Sire: FCGD Cypress Swamp Rocky, Dam: Cypress Swamp Cry Baby, Breeder: Steve Poirier, Handler: Steve Poirier
15" Males
Judges: Brent Champagne & Andre Champagne
1st. Roy's Countrywood Undercover Boss, Owner: Leonard Schouest, Marrero, La. Sire: FC Roy's Countrywood Keeper, Dam: Tc's Alabama Randi, Breeders: Janes & Gabe Wilson, Handler: Leonard Schouest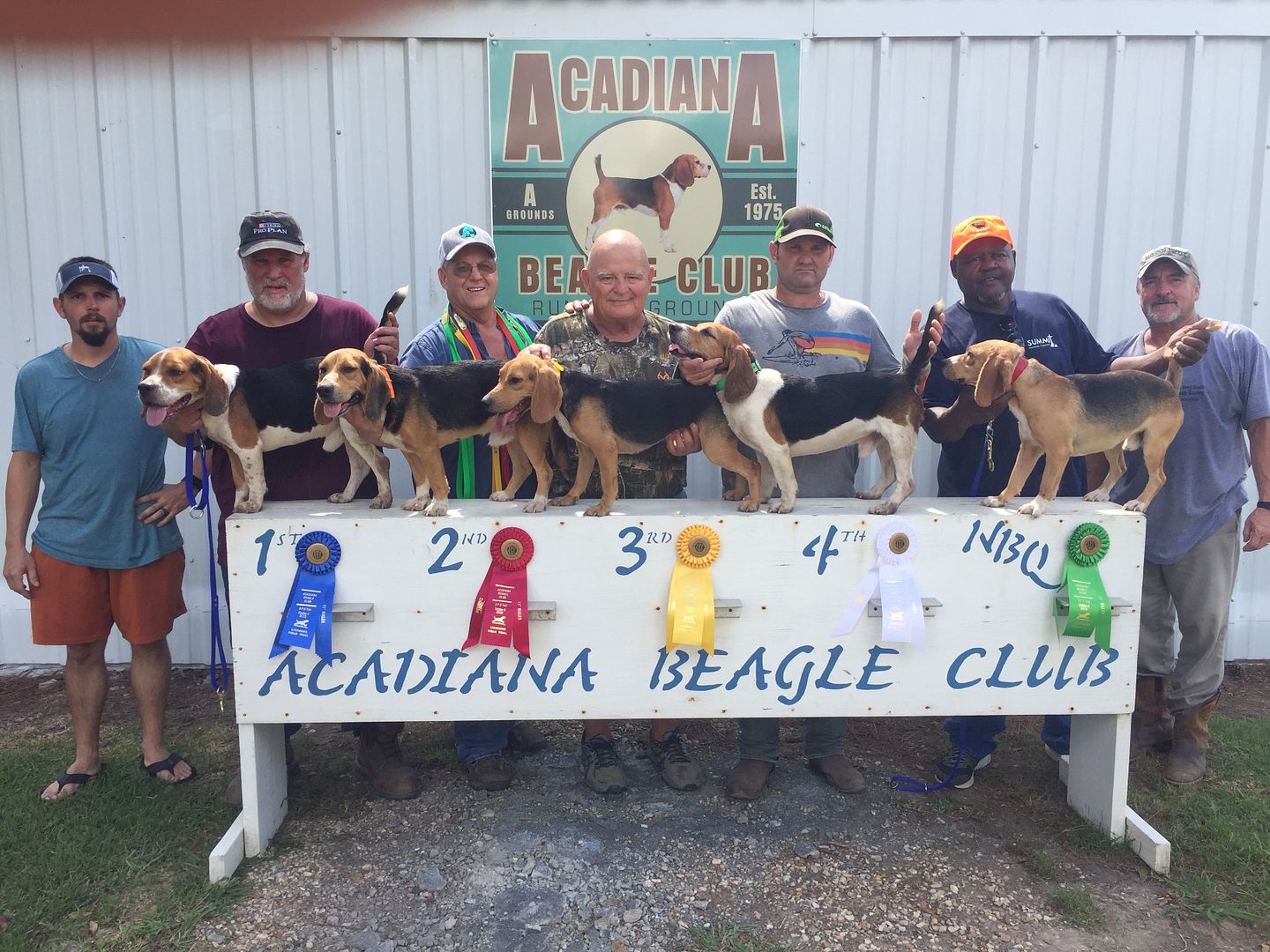 2nd. Darey Doe's Mesmerize Me Big'un, Owner: Norris Daniel, Albany, La. Sire: FC Randomshot's Driving Pee Wee, Dam: Star R Lady Pearl, Breeder: Mike Reynolds, Handler: Norris Daniel
3rd. Pea Ridge Drive-It Mr Coffee, Owner: Norris Daniel, Albany, La. Sire: NSPC FCGD Darey Doe's On The Money Rip, Dam: Star R Black Eyed Suzie, Breeder: Mike Ray, Handler: Norris Daniel
4th. Pea Ridge Driven It's Just A Rumor, Owner: Leonard Schouest, Morrero La. Sire: Pea Ridge Driven Joe Kidd, Dam: Cockle Bur's Dizzy Lizzy, Breeder: Norris Daniel, Handler: Leonard Schouest
NBQ. Pea Ridge Drive-It Journey, Owner: Norris Daniel, Albany, La. Sire: FCGD FCGD Brown's La Cawood, Dam: FCGD Pea Ridge Driven Paige II, Breeder: Richard Geiger, Handler: Norris Daniel